In other news, we gave Galway another shot. See, the first time I went to Galway, I had only been living in Ireland for oh, 24 hours or so. I also got an annoying cold as soon as I got off the train, and it was New Year's Eve. So I didn't get a great impression of Galway because I was jet lagged, sick, cold, and half the town was still shut down for the holidays. We only stayed for the weekend and then hightailed it outta there back to Dublin, and I wondered what all the hype about Galway was over.
So when our friend Eve graciously invited us to stay in her new place in Galway, we couldn't turn it down. And you know what? I thought it was a cute little town this time around! Having all the shops and restaurants open, the sun shining, and being healthy and alert gave me a new perspective on Galway. Plus, it's hard to be unhappy when you are so close to the ocean. We walked around town, perused some stores, walked along the shore, and went to this really funny (and admittedly touristy) pub that reminded me SO MUCH of Maine, I insisted we go there twice.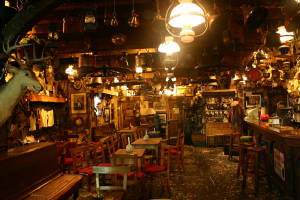 My camera doesn't take good indoor photos, so I had to swipe these off their website.
But here are some photos I took walking along the shore:
Now, the Irish are a hearty people. And swimming in cold water is just one of the common sights all around the country. Maybe it's good for the soul, who knows. But while we walked around in our scarves (ok, I was in a scarf, the others threw caution to the wind), these ladies went for a dip:
This was taken from a diving platform. I'm sure it looks much different in high tide (ie it's covered in water). But this is where people get their swim on:
I decided to take a little ten second video of the view from our little diving platform, for posterity.