Here is a photo of Mark's back, walking around after I got my immigration card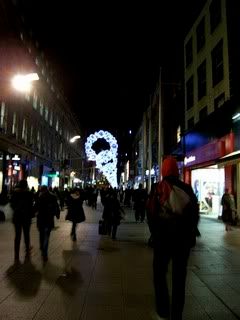 Apparently they did away with a real tree on O'Connell Street and have this new-fangled thing that lights up and changes colors. Mark hates it, so I took a photo of it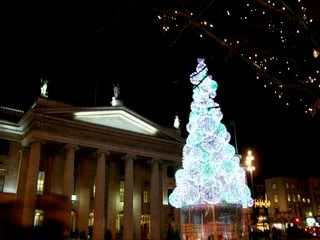 This morning I rode my bike for the first time! The ride terrified and exhilarated me, riding on the left side of the road, with no bike lane, and these little teeny roads with drivers who are not afraid to come within inches of a biker whatsoever. My new bike is wonderful, but the brake levers are placed way far up, making it difficult to reach and get leverage on. Mark is going to put new ones on for me at some point so I can reach them better with my short arms and little hands. We rode out to the post office in Fairview to fetch my last package, which thankfully came!! So I can stop stressing about that now. And it was the lightest of the bunch so it wasn't such a pain to bring back.
Yesterday I had a little adventure -- I took the bus into town and brought my wheel to the shop, which as it turns out, didn't need a tool for the part to be put on, but that was fine -- the dude put the piece on the wheel for me and then I walked around for like 4 hours with this bicycle wheel in my hand! But it was light, and not a huge deal. I was sort of hoping to come upon a store that would have just the thing for my clothes, or else my books, but I really just kind of wandered around aimlessly. I did find a part of town where there was a bunch of thrift shops, but no luck in the furniture area. I also happened upon a bunch of furniture shops, but they were all too fancy. I was supposed to get a SIM card for my phone, but I only wandered into one shop for that and I just wasn't sold on it so I left. I finally got myself good and lost in a sort of slummy part of town, so I had to look at my map to find my way, but I had pointed myself toward the general direction of home, so I wasn't that bad off. First, I came upon this kind of neat sculpture with changing colored lights:
On my way home I bought an American-style coffee maker on sale so we could stop drinking the mud from the french press, and also as a little thank you gift for Mark for assembling my bike. Speaking of which, we ran into the landlord this morning and he said there's a shed being built for our bikes, which is going to be *stellar* so we don't have to keep them in the apartment. And that really means a lot because it opens up the whole entrance way, meaning that there will be plenty of room for a studio for me. I was overjoyed -- I can't even tell you. We had talked about converting our parking space (located under the building) into a bike park, but that was going to be pricey. But now we don't have to! I can't wait to save up and get a desk. And then we can get another little chair for the living room, too. I really do like our apartment a whole lot.
It gets dark here so early! By 4:30 I think it is. So a lot of my photos are at night, like this one, taken I think after my last time at the pub where I get my wifi connection, on my walk home:
Then, here are some random photos. One of the river next to our building.
Mark in our kitchen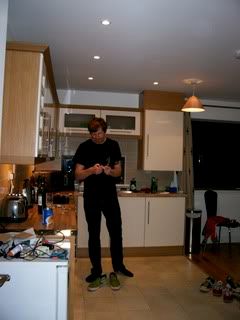 Gypsy, on the bed (surprsingly not on her favorite spot: my pillow)