Yesterday we had a nice fun-filled day. First, when we woke up, we did some much needed strength training. As the weather gets a little nippier, my waist is getting a little bigger. I mean, my pants still fit, but they aren't as loose as they were this summer after I came back from Florida, that's for sure! Then we went up to Uncle Billy's house to check on him and help him do some things around the house. After all that was done, we figured we had earned a visit to the
Paulaner Oktoberfest
that was going on at the
IFSC
, in the Docklands. Since it was a free event, we figured we should check it out!
Our steins are proportioned to our body size! Inside the big tent:
The band:
Sadly there was no free beer, and even the soft pretzels cost 2 euro each, We still managed to sample the delicious Paulaner on tap for not too much money, and enjoy people watching and the band, which cost nothing. A lot of the long tables were reserved, but we scored a couple of seats on a table right up next to the band, and miraculously we didn't get kicked off either!
I asked a woman next to us to take our photo, but as you can tell from the quality of the picture, she may have had a couple of steins of beer:
I took a little video of the band, for your amusement: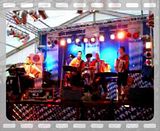 Then we headed over to the
Dublin to Gaza
benefit gig at
Tripod
. The idea was that in addition to being a fundraiser, the concert would also be shown live on a large screen in Gaza. However, apparently they were experiencing power outages, so that sadly didn't happen.
When we first walked in, Liam Ó Maonlaí from the Hothouse Flowers was playing. It wasn't really our thing, so we hung out in the bar area, where I got the tiniest whiskey I've ever had in my life. I actually complained, which I've never done in my 15 years of being legal drinking age. I said to the guy that it was the smallest whiskey I'd ever seen and he said it was a full "Irish measure," holding up a measuring cup, and if I wanted more, I'd "pay more." It seemed so crappy to me that a barman would measure out a shot and not throw in a little extra. Not for 5.50, anyways!! So needless to say I didn't order another drink.
We strolled back into the venue as
MC Lowkey
was performing. He was really good! It's nice to see rap that isn't all about bling and commercialism.
I took a little video of him rapping down the alphabet: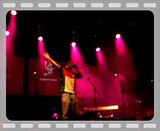 Then the Irish band
Kíla
came on. The crowd was really pumped. Kíla definitely have a very Irish sound, using traditional instruments like the Bodhrán, whistle, and fiddle. Apparently last night's show was low-key for them, and usually it's like a gigantic mosh pit with people jumping up and down in excitement. To most of the audience, their music stirred up something old within, but for me the music was exotic, and so the entire experience was fascinating. My eyes flitted back and forth from the performers to the audience, many of whom were jumping up and down with excitement through much of the show.
We biked home, having had a long day full of things to think about!