So my friend Stacey from high school and UNH (I won't say how many years back that's going), was in town for a couple of days, and it was so much fun! I got to be an unabashed tourist in Dublin. She got into town late Wednesday evening, so we grabbed dinner at Fortuna, a Chinese and Korean Restaurant on Parnell Street. I enjoyed the food, and found it to be better than Charming Noodle a few doors down. Then, since it was already 10:30pm and the bars close at 11:30 here, we went to Brannigan's Bar, where I'd been with Mark's Dad after "Comedy of Errors." It was great to chat and catch up!
Then Thursday morning I met Stacey at her hotel, and after I topped up my mobile phone over on Henry Street (an area kind of like Downtown Crossing in Boston), we caught some fresh juice at
Nude Cafe
, then went over to the
National Museum
because I wanted her to see the
bog men
, which I think are just so cool. I took some photos (ssshhhh):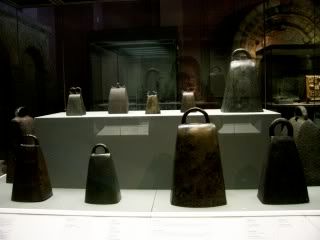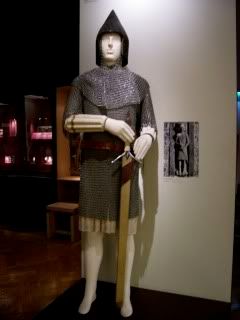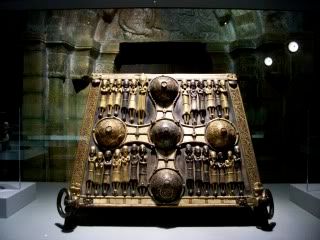 Then I took her up for a quick jaunt through St. Stephen's Green, then down Grafton Street (a shopping area more like Newbury Street). We admired the pretty things in
Karen Millen
-- so inspiring. We decided on some key sight seeing destinations for the day, and agreed that paying for one of those tour buses would be a good way to get around town and see them. Not realizing that we could catch one right where we were at the Tourist Center, I made us walk all the way back to O'Connell Street! But we caught the tour bus there just the same, and although it was raining, there were a couple of dry, covered seats on the top level. I snapped a couple of photos. Here's Stacey, and the empty seats behind us:
We got off at St. Patrick's Cathedral, but they were charging 5.50euro to get in, and honestly neither of us wanted to pay that. So we got as good a look as possible from outside the cash register, and then got on the next tour bus, headed for the next stop: the Guinness Storehouse. The Guinness Factory hasn't been in use since 2001, and the building was converted into a museum, where they give the tours, and let me tell you it is pretty high-tech and elaborate! At the end of the tour you get to sit up on the seventh floor with these panoramic views and drink a free pint. During the tour I took a lot of photos because there were a lot of unusual objects!
Indoor waterfall:
Silk Hops display: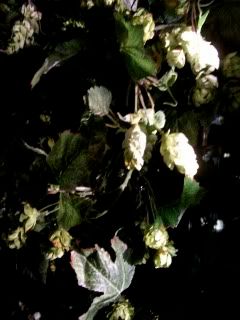 These held a lot of beer: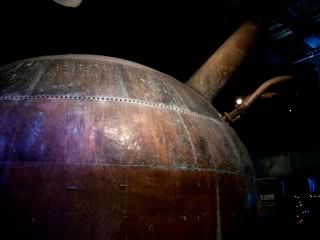 Old bottles:
A miniature ship with Stacey in the background: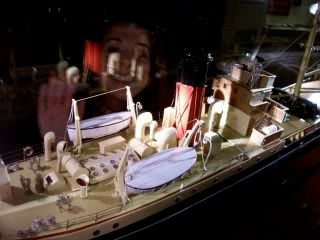 Who is...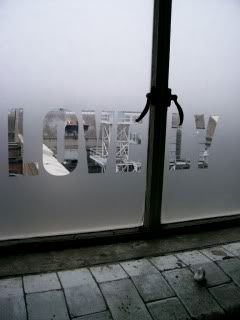 And here's me after the tour:
But the final room of the tour, just before the exit might have been most dramatic. It amused me so much that I took a little video.
have a look here
- there's sound, and let me tell you - it's dramatic!
After the Guinness tour, we went for a nice vegetarian dinner at
Juice Restaurant
, which was
fantastic
. After dinner, I thought we would head over to see some comedy at the
International
. But for some reason in my head I was thinking of a place over by the Liffey. But as we were walking over there, I spied H, from Seomra Spraoi. She informed us that we were headed the wrong direction to go to the International. She was telling us how to get there, but then she asked to join us, which was great!
H and Stacey outside the International: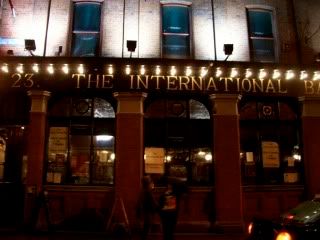 When we got in there, I was a little shocked at how small it was, and additionally how many people they were packing into it! We managed to get seats and waited for the show to begin with much trepidation. I started to wonder if I'd brought us to the right place! But actually, while some of the jokes were not to my taste (a smattering of homophobic, racist, sexist jokes), there was some good material, and I laughed a lot and it was a good time.
I had wanted to take Stacey to The Long Hall pub, but as it was past 11:30 when the comedy show was over, they were closing. So we went across the street to Hogan's Bar, which was open late although the music was too loud. I admit that I'm not sure that everything I said made *complete* sense, given the beer we drank, but the three of us had flowing conversation on a wide array of subjects from politics to media to wrinkles! A full day, but so pleasant and fun.
Then this morning I met Stacey for breakfast at one of my preferred restaurants, LovinSpoon. This was my third time there, and it didn't disappoint. We both got the vegetarian breakfast, which was scrambled eggs on a pancake, baked beans, sauteed mushrooms, and toast. The coffee was nice and strong -- just what I needed. After that we traveled only a few steps to the Ambassador to the Bodies exhibit. I've gotta say that while I don't have any philosophical problems with the exhibit, and had always been mildly curious about it, first of all, I do not recommend seeing it on a full stomach. Secondly, if you have an overactive fear of death as I do, I also do not recommend this exhibit, as it consists of actual human bodies. Now, if you are a person who can separate these things in your mind (meat eaters, I'm looking at you), then maybe you're all set. But for me, I kept imagining that the bodies were my own body, and thinking about the fact that I will have to die and not be in my body anymore, and that my body with not be animated, and well, let's just say it takes me to a dark place on any given hour of the day, let alone standing in the middle of an exhibit full of dead bodies and body parts. I took a long trip to the bathroom to kill a little time.
Once we were out in the open air, it had stopped raining! So we walked up to Temple Bar and checked out that area, which isn't my favorite, so I took Stacey up to Georges Street through the Arcade Market and then through the shops over that direction, where the Powerscourt Arcade is. We went up to the Design Loft to check out the vendors, and there is some really cute stuff. This fabulous hat maker, Dessislava, made us try on all these hats, and we convinced Stacey to get a fantastic headband -- it looked amazing on, and I can't wait to see photos of her out and about in Boston with it on! Here's a shot of Stacey in one of the brilliant hats. It looked so good on her!
Then we walked back to the hotel over the Ha'Penney bridge through Moore street (the Haymarket-like area; she bought some bananas), and fetched her luggage and caught a taxi back to my apartment where Stacey's rental car was parked. I guess our parking space is good for something after all! But in order to avoid Friday afternoon traffic, she had to head out immediately, so we said our good-byes. She has a load of photos on her camera of our day together, which I will have to add later on. But it was fantastic to have someone from home visiting, and someone so much fun to be with, especially. I hope she has a fantastic weekend, completing her tour of Ireland. She now officially knows more of this country than I do, having driven all around it!
UPDATE: Here are some of Stacey's photos from our tourist fun in Dublin!
In St. Stephen's Green:
On the tour bus:
Drinking our free pint:
Me trying on a fantastic hat:
More hats! I made her buy the one she's wearing!