I went to my first ever
GAA
football game! What is that, you ask? Well, GAA stands for "Gaelic Athletic Association,"
started in 1844
as "the Gaelic Athletic Association for the Preservation and Cultivation of National Pastimes." In other words, specifically Irish games, which include Football, Hurling, and Camogie (for women), among other activities. We live within walking distance of
Croke Park Stadium
, so it was pretty cool to walk down and catch the game dressed in the Dublin colors (light blue, dark blue, and white).
Initially I was a little apprehensive when Mark told me we'd be in a standing-room-only section of the park because I've been having back trouble lately, but the game is not very long from start to finish, so I was actually glad to be with what I felt were more enthusiastic fans. Here are a couple of photos of the marching band and the teams coming out onto the field: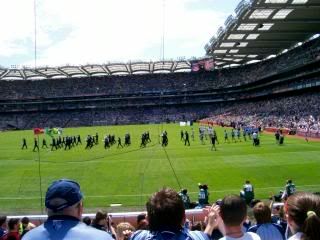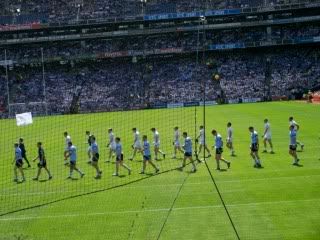 The most striking thing about Gaelic football as opposed to soccer is the fact that the players can use their hands. It's full of easy-to-follow action, and it's a very exciting game! The other striking thing is the singing that happens continually throughout the game. It reminded me of summer camp. The fans were so enthusiastic, and cheered so heartily that it was difficult not to get swept up in the emotion. This particular match seemed like it would be one-sided at the start, but then very quickly became a close one. But Dublin won against Kildare in the end, so everyone in our stand was happy! What I didn't expect was how when the match was over, the fans ran out onto the field! So how could we not join them? I took some photos of people running onto the field, and then from my vantage point on the field:
It was raining (of course -- it rains every day here) by the time the game was ending, but it didn't take away from the pleasure of the experience! Those who know me know that I'm not generally a "sports person," but I can appreciate sports when it's in order!