This is probably of little interest to anyone, but I'm posting some before and after photos of our apartment, because we worked so hard to clean the place up, and I think we did a pretty a-ok job.
The Living room: Before.
The walls were dirty white with this obnoxious blue trim. The place was also in shambles because we couldn't fully unpack due to copious amounts of crap left by the previous tenant.
The Living room: After, minus curtains.
I will probably edit this post once the new curtains are sewn (today's project), but for now, here's how it looks.
And note these lovely lions, procured from Uncle Billy's "far shed":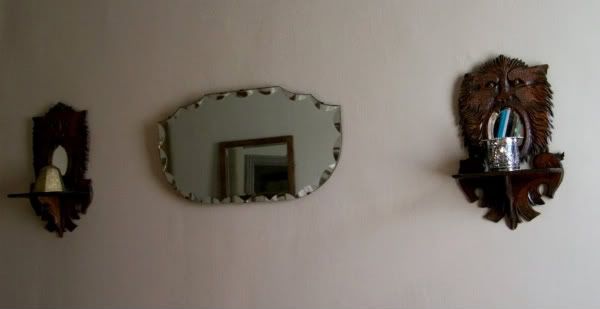 The Bathroom: Before.
The walls were a disgusting pink color that made me shudder every time I went in there.
The Bathroom: After.
It took two coats (three in some places), but we covered it in a nice ice blue color, with gray trim:
Once I re-grout the shower, I'll probably post those befores and afters, because I know you all care so much!