Last night, for a little change of pace, we went to see a
fashion show
! I had to buy tickets to the show, which made me wince a little, but I guess considering that they served complimentary drinks, it was actually not a bad "value" at all. I got to see some really nice local fashion, see a new venue, and also we hung out with a new acquaintance, we'll call her A2, a very nice woman we met at Seomra Spraoi on Sunday who moved to Ireland a month ago from South Africa. So really, many good things all rolled into one event!
I am going to write a more extensive review on what I thought of the actual fashion in the show on my
fashion-related blog
, but there were some really beautiful pieces in the show, and you know what? Even the ones I wasn't so hot for were inspiring! I would love to get involved with some kind of show like this, but I first need to get a lot more practice in, and invest some dollars into some good fabric for a collection (as opposed to the yard sale fabric I am currently working with haha). I've started on the pattern for my next piece, and it's going ok, but I realized how long it's been since I have worked "on the flat," and how much I never really enjoyed it! I much prefer to drape on the dress form. However, this is really good for me! Because I will learn a LOT by having to do something I don't enjoy so much, and I will have to learn how to flat pattern something I would have previously slapped on the dress form and draped.
I did get a couple of shots in, though as you can see my camera is ancient and the models in motion came out blurry. Still, you get the feel for the space inside the show. I forgot to take a photo of the reception area, which was a large warehouse studio space -- very bright, and gigantic. I wondered how they use the space regularly when there aren't events there.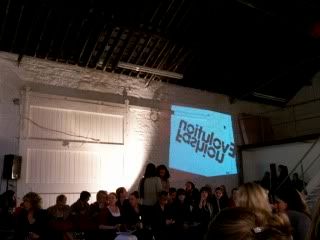 After we walked A2 to her bus, we grabbed a couple of pints at my favorite bar,
the Welcome Inn
. It was, as usual, completely dead inside and smelled like the vaults at Saint Michan's where they keep the mummies, but I just really love it in there because aside from the music, it's like walking into a time warp when you go in. Mark and I debated our usual topics of capitalism, ideology, and cultural identity, and then caught the bus home.