We once had a landlord that looked like a serial killer just escaped from prison who said something quite profound about himself that I definitely identify with. In his Wolfman Jack-possessed-by-a-demon voice, he said, "If there's shit, I'll step in it." Not surprisingly, we took that landlord to small claims court. The judge ruled in my favor, but let's just say that no one won.
Today was one of those days when we definitely had to quote our former Landlord. The weekend weather was beautiful -- sunny skies, comparably warm, just really nice weather. But did we do anything adventurous? Oh, no. We decided that on Monday we'd go to
Bray
.
This morning it did seem a bit cloudy when we woke up. I looked up the weather report: 50F, 50% chance of rain in the afternoon. No worries! We took off at 2pm. It was spitting rain, but we weren't too concerned. But an hour later when we reached the seaside town of Bray, it was pouring rain. Not pleasant!
Since the Monday after Easter is considered a holiday here (Easter Monday, who woulda thunk?) most things were closed, and we were quickly getting soaked and cold, so we popped into
The Porterhouse
for something to eat and to dry off. We were ignored by most of the wait staff, sat ourselves, but got a nice seat by a fire, then finally put in an order, but their vegetarian options were extremely limited, and the only vegan item they had were french fries. They did have some nice beer though, and I thoroughly enjoyed the Temple Brau that I drank.
A little aside about the beer in Ireland. Americans think that great beer is coming out of the faucets here or something. They also seem to thing that Guinness is cheaper. Before I came over, when expressing worry over finding a job, I can't tell you how many people said things like, "Well, at least you can drink Guinness all the time!" You know, they don't give it out free at the dole office. In fact, a pint of Guinness is more expensive here than it is back home. In fact, I think pretty much all beer is more expensive here than back home, and that's not just because of the weak dollar. Secondly, in 85% of the bars here, the beer selection is utter crap, and the same ten beers. I really, really miss those wonderful craft beers, the micro-brews, and the myriad local beers from all over the place. These things can be found here, for sure, but you have to seek them out is all.
Anyhoo - We hoped that once we were done eating it might have stopped raining, but no such luck. So we walked around just long enough to get soaked again, and then headed back to the train and went home, vowing to return on the next non-rainy day!
Here are two photos that I took. Shoe in the foreground: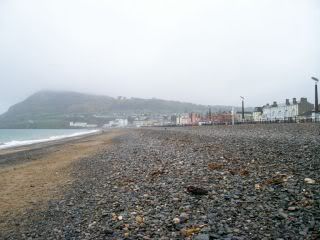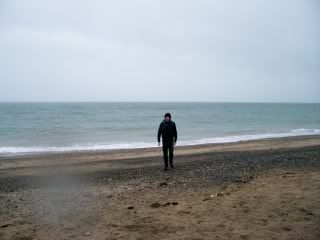 And a final word: if you're a regular reader, feel free to send me an email or a comment! This blog was created for friends and family but I love to hear from any other readers that I've got. Especially if you're in Dublin and you have similar interests!